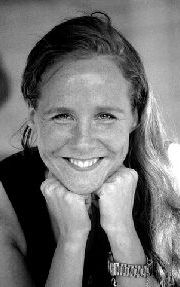 Kristina von Weltzien (born 1973 in Kiel) is a German voice actor who provides voices for the German version of Thomas & Friends.
She is known best for playing Amelie Amsel from "Die Schule am See", but she is also known for voicing Charlotte Watsford from "H2O: Just Add Water", Janice Quatlane from "Professor Layton and the Eternal Diva", Lucrezia Noin from "Mobile Suit Gundam Wing", Tenma Tsukamoto from "School Rumble", Po from "Teletubbies", Becky Lopez from "George Shrinks", Hawkgirl from "DC Super Hero Girls", and the title character She-Ra from "She-Ra: Princess of Power". Other German dubbing credits include "Miss Marple" and "Poirot".
Voices
Trivia
She, Konstantin Graudus, Jesse Grimm, Sascha Draeger, Tobias Diakow, Joshy Peters, Johannes Semm, Simona Pahl, Robin Brosch, Patrick Bach, Marion von Stengel, Robert Missler, Volker Hanisch, Oliver Böttcher, Holger Mahlich, Achim Schülke, Peter Weis, Tobias Schmidt, Tim Kreuer, Nadine Schreier, Fabian Harloff, Daniel Welbat, Monty Arnold, Jürgen Uter, Tammo Kaulbarsch, Martin Lohmann and Robert Kotulla have all worked on the German dub of "Bob's Burgers".
She, Sonja Stein, Katja Brügger, Tobias Schmidt, Rainer Schmitt, Holger Mahlich, Achim Buch, Erik Schäffler, Simona Pahl, Anne Moll, Robert Missler, Christian Stark, Nils Rieke, Celine Fontages, Adrian Perdjon and Joanna Pach-Żbikowska all worked on "H2O: Just Add Water".
She, Jens Wendland, Tobias Schmidt, Matthias Klimsa, Jürgen Holdorf, Volker Hanisch, Achim Buch, Nadine Schreier, Nils Rieke and Bernd Stephan provided voices for "Realite".