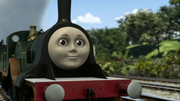 Knapford Iron Bridge is a bridge located just south of Knapford. There is a small yard underneath the bridge, and a small platform where goods are unloaded. There is a charging station in which Stafford can charge his battery.
It first appeared in Hero of the Rails and has made frequent appearances ever since.
Appearances
Ad blocker interference detected!
Wikia is a free-to-use site that makes money from advertising. We have a modified experience for viewers using ad blockers

Wikia is not accessible if you've made further modifications. Remove the custom ad blocker rule(s) and the page will load as expected.