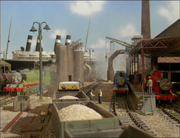 Knapford Harbour is situated west of the railway station. It was under construction in Percy the Small Engine with stone from Anopha Quarry being brought in to build it. However, not long after its completion, the foundations of the quay began to sink. It was here that Percy took a dive into the harbour's waters. It was also here a crate of treacle fell on him.
This is also the harbour where Diesel pushed some trucks into the sea.
Later, Percy pushed several trucks full of stone into Bulstrode's hull. After the accident, Bulstrode was towed to a nearby beach.
The southern quay is accessible from the goods branch stemming off from Thomas' Branch Line in Dryaw. According to the Thomas' Branch Line Surprise Packet Map, the northern quay has a spur from The Main Line, going over a bridge in front of the main line one and into the northern quay. However the two quays are connected by a small bridge crossing the river which is not present on the book illustrations, but it is present on Sodor maps. There is a small railway station located by the docks, separate from the mainline station.
Appearances
Season 2 - Cows, Thomas and Trevor, Percy and Harold, Percy Takes the Plunge, The Diseasel, Wrong Road and Edward's Exploit
Season 3 - Diesel Does it Again, No Joke for James, Buzz, Buzz, All at Sea, Tender Engines and Oliver Owns Up
Trivia
Big Mickey and S.S.Vienna's models from TUGS were seen at this harbour during the third season, but since the fifth season they have been seen at Brendam.
In the second season, the new harbour that appears in Thomas and Trevor and Percy and Harold is different from the one that appears through out it. However, given that Gordon ended up near the harbour on Edward's Branch line it is possible that the former is Brendam.
In the third season, there was a small Knapford-esque station located at the harbour.
Ad blocker interference detected!
Wikia is a free-to-use site that makes money from advertising. We have a modified experience for viewers using ad blockers

Wikia is not accessible if you've made further modifications. Remove the custom ad blocker rule(s) and the page will load as expected.