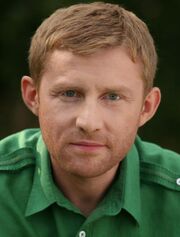 Klaudiusz Kaufmann (born on 8 April 1978) is a Polish actor who provides voices in the Polish dub of Thomas & Friends.
He is best known for voicing Agent Oso from "Special Agent Oso", Shun Kazami from "Bakugan Battle Brawlers", Team Galactic member Saturn and Mr. Sukizo from "Pokémon", Soarin' from "My Little Pony: Friendship is Magic", Irving from "Chuggington", Bob from "It's a Big Big World", and Marty from the "Madagascar" series.
Voices
Trivia
He, along with Dariusz Błażejewski, Janusz Wituch, and Artur Pontek played Mr. Sukizo from "Pokémon".

Adriana Casas, Loukas Frangoulis, Piotr Bąk, Paul Disbergen, Mikołaj Klimek, Bartosz Martyna, Tokuyoshi Kawashima, Dor Srugo, Mildred Barrera, Roberto Gutiérrez, Finn Poncin, Hinako Sasaki, Shinichirō Miki, Hisao Egawa, Javier Olguín, Kōichi Sakaguchi, Katsuji Mori, Susa Saukko, Pasi Ruohonen, Kiyoyuki Yanada, Waldemar Barwiński, Junichi Kanemaru, Hiroshi Tsuchida, Krzysztof Szczerbiński, Josie Yee, Diana Pérez, Grzegorz Drojewski, Mayra Arellano, Sander de Heer, Hiroko Emori, Naomi Shindō, Justyna Bojczuk, Miłogost Reczek, Tsutomu Densaka, Bruno Coronel, Xóchitl Ugarte, Miguel Ángel Leal, Noriko Shitaya, Anna Gajewska, Gaby Ugarte, Hiro Nakajima, Roberto Mendiola, Chikara Osaka, Kan Tanaka, Yohei Nishina, Salvador Reyes, Yuri Shiratori, Bin Shimada, Ángel Amorós, Kenta Miyake, Keiko Toda, Octavio Rojas, Masaharu Satō, Trond Teigen, Kiyonobu Suzuki, Talya Barkay, Yehonatan Magon, Kumiko Higa, Nir Ron, Joanna Pach-Żbikowska, Scott Maurstad, Olga Kuznetsova, Jan Kulczycki, Moisés Iván Mora, Tomohiro Nishimura, Piotr Bajtlik, Hideki Takahashi, Alan Prieto, Beata Jankowska-Tzimas, Tetsu Inada, Nobutoshi Canna, Krystyna Kozanecka, Masayuki Omoro, Simen Sand, Gadi Levy, Paweł Szczesny, Erik Skjøld, Leonardo García, Dafnis Fernández, Adrian Perdjon, Gerardo García, Józef Mika, Lena Meieran, Manuel Campuzano, César Árias, Dulce Guerrero, Armando Coria, Salvador Serrano, Leyla Rangel, Samuel Harjanne, Cezary Kwieciński, Hikaru Midorikawa, Juha Paananen and Hugolin Chevrette-Landesque have all worked on "Pokémon".

Both he and Santiago Ziesmer voiced G'Nort from "Batman: The Brave and the Bold" in their respective languages.

Also, both he and Wanja Gerick voiced Skeets from the same show.

Both he and Jürgen Theuns voiced Sheldon from "My Life as a Teenage Robot" in their respective languages.
"Welcome to the Steamworks, my friend!"

This article is a stub. You can help by expanding it.
Ad blocker interference detected!
Wikia is a free-to-use site that makes money from advertising. We have a modified experience for viewers using ad blockers

Wikia is not accessible if you've made further modifications. Remove the custom ad blocker rule(s) and the page will load as expected.