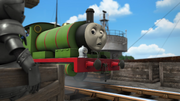 King Godred was a beloved king of Sodor.
Bio
He lived in Ulfstead Castle and fought off invaders from the island. Years ago, King Godred's crown was stolen by thieves. The thieves were caught, but the crown was never seen again. After being searched for by the engines, Stephen found it in the Ulfstead Mine.
He appeared in King of the Railway where he was mentioned and seen in the form of an illustration.
Appearances
Specials:
Gallery