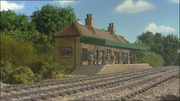 Killdane (previously Keeill-y-Deighan, or the "Church of the Devil", originating from the circle of standing stones on the plateau above the village) is a town on the Main Line and the junction for the Peel Godred Branch Line. An hourly (half-hourly at peak times) service is provided and four passenger trains are pulled along the branch from here by electric locomotives daily. A group of standing stones is located on the hill just north of the town.
In 1935, Henry crashed into a goods train here whilst pulling "The Flying Kipper".
In 1967, a ballast processing plant and distribution centre was set up by the Arlesdale Ballast and Granite Company. A motorail terminal was also opened here in 1977. The Sodor Ironworks is located south of the town.
In the television series, Killdane station only appeared in the tenth season episode, James the Second Best. The Sodor Ice Cream Factory is located near the town.
Trivia
In the television series, the station has the same structure as Wellsworth.
Gallery