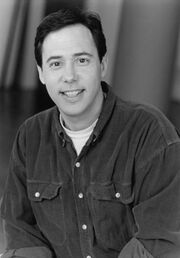 Kevin Frank (born 13 January 1957) is a Canadian actor, director and producer. He provided voices for some of the characters in Thomas and the Magic Railroad.
Originally he, along with improvisation partner Neil Crone, auditioned for the part of the troublesome trucks. Whilst fooling around at the microphone, Crone and Frank were asked to try out for other characters.
Besides voicing many of the characters, Neil Crone and Kevin Frank were also asked to add more comedy to the Magic Railroad script. Both were "creative consultants" for the film.
Voices
Filmography
Film

Getting Away with Murder (1996)
Toy Soldiers (1999)
Thomas and the Magic Railroad (2000)

TV

War of the Worlds (1988)
Street Legal (1989)
Top Cops (1990)
Clarence (1990)
The Red Green Show (1992)
Boogies Diner (1994)
Due South (1994)
The Mighty Jungle (1994
Pet Project (1996)
The Marriage Fool (1998)
Twice in a Lifetime (1999)
The Newsroom (2000)
Trivia
External Links
Ad blocker interference detected!
Wikia is a free-to-use site that makes money from advertising. We have a modified experience for viewers using ad blockers

Wikia is not accessible if you've made further modifications. Remove the custom ad blocker rule(s) and the page will load as expected.