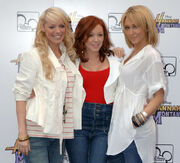 Kerry Kay (born Kerry Jayne Elizabeth Katona on September 6, 1980 in Warrington, Chesire, England, UK) is an English pop singer and media personality who was a member of Atomic Kitten from 1998-2001 and from 2012-2017.
She helped with the music score for Thomas and the Magic Railroad and sang The Locomotion.
"Welcome to the Steamworks, my friend!"

This article is a stub. You can help by expanding it.