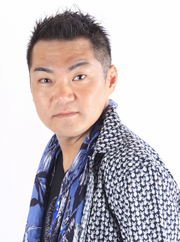 Kenta Miyake (born on August 23rd, 1977 in Okinawa, Japan) is a Japanese actor who provides voices for the Japanese version of Thomas & Friends.
He is best known for voicing Grim from "The Grim Adventures of Billy and Mandy", Vector from "Sonic the Hedgehog", Tsume from "Wolf's Rain", Zangief from "Street Fighter", Charlotte Cuuhlhourne from "Bleach", Jirōbō and Akatsuchi from "Naruto", Bulkhead from "Transformers: Animated", Shockwave from "Transformers Prime", Fido and Spot the Diamond Dogs from "My Little Pony: Friendship is Magic", Lord Hater from "Wander Over Yonder", Chief Bogo from "Zootopia", and various voices from "Pokémon", including Giovanni.
Voices
Songs
Trivia
External links
Ad blocker interference detected!
Wikia is a free-to-use site that makes money from advertising. We have a modified experience for viewers using ad blockers

Wikia is not accessible if you've made further modifications. Remove the custom ad blocker rule(s) and the page will load as expected.