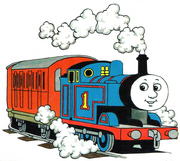 Ken Stott is a published author and an illustrator, who illustrated the Thomas mini books. He illustrated from the late 1980's to 1997. His pictures were basic and simple, using only one shade for each engine and black for the shadows. Despite this, Stott did include some aspects to the engines that kept it faithful to the Railway Series. One was Thomas' running plate, which remained straight, Henry with split windows on his cab sides and his running plate above the wheels completely.
Books
Thomas Pulls the Goods Train
Thomas Goes to the Seaside
Thomas's Big Book of Words
Ad blocker interference detected!
Wikia is a free-to-use site that makes money from advertising. We have a modified experience for viewers using ad blockers

Wikia is not accessible if you've made further modifications. Remove the custom ad blocker rule(s) and the page will load as expected.