"We're a crackin' crew!"
— Kelly, A Friend in Need, sixth season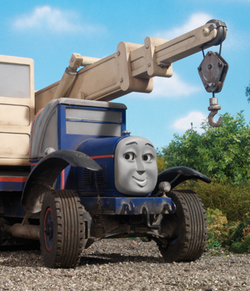 Kelly
Kelly is a crane. He is the oldest member of the Pack, having originally belonged to Miss Jenny's father.
Bio
He once told a story about the "One-Eyed Truck".
Persona
Kelly is good at heart and gets along with everyone. He is good friends with Isobella. He is seen by many as the team's leader, and is usually given the most dangerous work to do. He will not be rushed and understands that work of this kind takes extreme care. Kelly used to have a slight fear of strong winds, but he conquered that fear when he rescued Isobella.
Livery
Kelly is painted navy blue with a cream crane arm and red lining. His wheels are navy blue with red lining. He has the number 17 painted on his sides in white.
Appearances
Specials:
He had a role in the cancelled episodes, Bossy Byron, The Importance of Being Patrick, Alfie Has a Secret, and Kelly's Heroes.
Kelly also appeared in two ninth season music videos.
Voice Actors
Trivia
Kelly is one of the machines whose silhouette is pictured on the Pack's logo.
Merchandise
Gallery
Merchandise Gallery