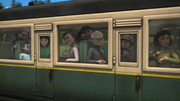 Kellsthorpe Road or just Kellsthorpe is a station at the junction of the Kirk Ronan Branch Line on the Main Line.
History
It is inconveniently located several kilometres away from both Kellsthorpe and Rolf's Castle. In The Railway Series it appeared briefly in Gordon the High-Speed Engine. In the television series, it first appeared in the eighth season and became a regular location until the CGI switchover. It returned in CGI in the seventeenth season. In the eighteenth season the track layout slightly changed and a diesel refuelling station was added.
The station has two buildings and three platforms, each connected by a footbridge. It also has a signalbox. 
James's bootlace incident happened a mile east of the station, and Edward catches a runaway James west of the station. Donald and Douglas rescued Henry from a snowdrift also west of the station and Henry started his "super-rescue" at a signalbox and level crossing here.
Ad blocker interference detected!
Wikia is a free-to-use site that makes money from advertising. We have a modified experience for viewers using ad blockers

Wikia is not accessible if you've made further modifications. Remove the custom ad blocker rule(s) and the page will load as expected.