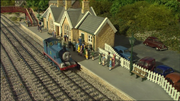 Kellaby is a village about nine kilometres west of Kellsthorpe. It is located on the Main Line. 
It has a railway station which only appeared in the Season 11 episode, Thomas and the Big Bang and The Great Discovery.
Thomas and James once raced past it on their way to The Wharf.
Trivia
In the eleventh season the station had a footbridge and a carpark area, although they were both removed in The Great Discovery.
The station building is similar to that of Peel Godred. 
"Welcome to the Steamworks, my friend!"

This article is a stub. You can help by expanding it.
Ad blocker interference detected!
Wikia is a free-to-use site that makes money from advertising. We have a modified experience for viewers using ad blockers

Wikia is not accessible if you've made further modifications. Remove the custom ad blocker rule(s) and the page will load as expected.