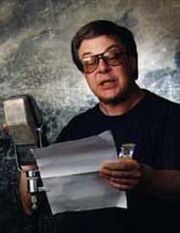 Keith Scott (born June 23rd, 1957, in Sydney, Australia) is an Australian voice actor. He is best known for voicing Bullwinkle from ""The Adventures of Rocky and Bullwinkle" and the narrator for the "George of the Jungle" films.
He was originally hired to voice Diesel 10 in Thomas and the Magic Railroad. But test audiences believed that he made Diesel 10 sound too frightening for young children, so he was replaced by Neil Crone. Keith's voice was still included in some of the trailers for unknown reasons. He also did the voice over for the Bluebird Toys set commercials in Australia.
Other credits include "The Adventures of Blinky Bill" and "Popeye's Bilgerat Barges".
Gallery
External Links