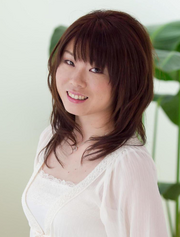 Keiko Nemoto (根本圭子, born on December 10, 1979 in Chiba Prefecture) is a Japanese animator and voice actress who provides voices for the Japanese narration of Thomas & Friends.
She is best known for voicing Tootie from "The Fairly Oddparents", Forte from "Rockman.EXE", Riley Freeman from "The Boondocks", Shu from "Blue Dragon", Jimmy from "Jimmy Two-Shoes", and Shizune and Tonton from "Naruto".
Voices
Songs
Trivia
She voiced characters from "The Fairly Oddparents", "The Boondocks", and "Lego Star Wars: The Padawan Menace" alongside Hiroshi Iwasaki. She also worked on "Jak and Daxter: The Lost Frontier" alongside Hiroaki Hirata.
She, along with Mireya Mendoza and Joanna Pach voiced Shizune from "Naruto" in their respective languages.
External links
Ad blocker interference detected!
Wikia is a free-to-use site that makes money from advertising. We have a modified experience for viewers using ad blockers

Wikia is not accessible if you've made further modifications. Remove the custom ad blocker rule(s) and the page will load as expected.