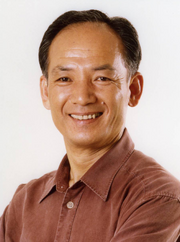 Katsunosuke Hori (堀 勝之祐, born on August 2nd, 1941 in Tokyo) is a Japanese voice actor who provided voices in the Japanese narration of Thomas & Friends.
He is best known for voicing Professor Xavier from Marvel's "X-Men" anime series, Josiah Wormwood from "Batman: The Animated Series", Schwarzwald from "The Big O", Fu from "Fullmetal Alchemist: Brotherhood", Howard Stark from "Iron Man: The Animated Series", Seno Miyage from "Blue Gender", Zenzaburu Mitsukoshi from "Maison Ikkoku", and Yuri Scott from "Master Keaton".
Voices
Trivia
Ad blocker interference detected!
Wikia is a free-to-use site that makes money from advertising. We have a modified experience for viewers using ad blockers

Wikia is not accessible if you've made further modifications. Remove the custom ad blocker rule(s) and the page will load as expected.