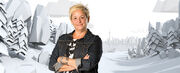 Kallan Kagan (born in Los Angeles, California, USA) was the President and Chief Creative Officer (CCO) of Arc Productions. She overseen all of the studio's productions and development of Arc's intellectual properties. She was a shareholder of the company.
She was also an executive producer of Thomas and Friends for Arc Productions from the seventeenth season until the twentieth season when Arc shut down and went bankruptcy.
She previously worked for numerous other companies such as Disney, Warner Bros., Mattel and CBS.
Other credits include: "Little Boy", "The Weekenders", "Tarzan and Jane", "Pocahontas 2: Journey to a New World", the "Barbie" series, and "The Amazing Spider-Man".
She is currently Head of Kids and Branded Entertainment at Kickstart Productions and Executive Producer of Weirdwood Manor at Relish Interactive.
Executive Producer
Seasons
Specials/Movies
Trivia
External Links
"Welcome to the Steamworks, my friend!"

This article is a stub. You can help by expanding it.
Ad blocker interference detected!
Wikia is a free-to-use site that makes money from advertising. We have a modified experience for viewers using ad blockers

Wikia is not accessible if you've made further modifications. Remove the custom ad blocker rule(s) and the page will load as expected.