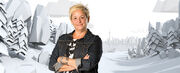 Kallan Kagan (born in Los Angeles, California, USA) was the President and Chief Creative Officer (CCO) of Arc Productions. She overseen all of the studio's productions and development of Arc's intellectual properties. She was a shareholder of the company.
She was also an executive producer of Thomas and Friends for Arc Productions from the seventeenth season until the twentieth season when Arc shut down and went bankruptcy.
She previously worked for numerous other companies such as Disney, Warner Bros., Mattel and CBS.
Other credits include: "Little Boy", "The Weekenders", "Tarzan and Jane", "Pocahontas 2: Journey to a New World", the "Barbie" series, and "The Amazing Spider-Man".
She is currently Head of Kids and Branded Entertainment at Kickstart Productions and Executive Producer of Weirdwood Manor at Relish Interactive.
Trivia
She, Russell Means and Jim Cummings worked on the film "Pocahontas 2: Journey to a New World".
She, Matthew Ahrens and Alan Kennedy both worked on "Barbie & Her Sisters in A Pony Tale". There have also been several other voice actors that have worked on Barbie films:
She, Alan Kennedy, Anna Wagner-Lopez, Jazmin Playtis, Marianne Culbert, Jason Reeves, Travis Gagne, Adam Black, Rob Pringle, Ryan Quaglia, Jesse Lickman, Tigh Walker and John Hickson all worked on "Tarzan and Jane".
External Links
Ad blocker interference detected!
Wikia is a free-to-use site that makes money from advertising. We have a modified experience for viewers using ad blockers

Wikia is not accessible if you've made further modifications. Remove the custom ad blocker rule(s) and the page will load as expected.