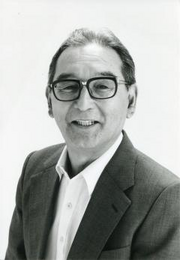 Kōhei Miyauchi (宮内幸平, born August 4th, 1929 - June 2nd, 1995 as Takayuki Miyauchi) was a Japanese voice actor who provided voices in the Japanese version of Thomas & Friends.
He voiced in various animes, including Kinoko Sennin in Super Mario Bros.: Peach-Hime Kyushutsu Dai Sakusen!, but he is most famous as the original voice to Master Roshi from the "Dragon Ball" series.
He died on June 2nd, 1995 in hospital as a result of abdominal varices.
Voices
Songs
Trivia
Ad blocker interference detected!
Wikia is a free-to-use site that makes money from advertising. We have a modified experience for viewers using ad blockers

Wikia is not accessible if you've made further modifications. Remove the custom ad blocker rule(s) and the page will load as expected.