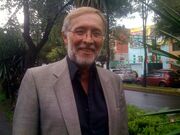 Jorge Santos (born November 1st, 1949 as Jacinto Humberto Amor Rosas), is a Mexican voice actor who provides voices in the Latin American narration of Thomas & Friends.
He is best known for voicing Raphael in the 1987 "Teenage Mutant Ninja Turtles" series, Jafar in Disney's "Aladdin", Dracula from "The Grim Adventures of Billy and Mandy", King Dedede from "Kirby", Zordon from "Power Rangers", Really Really Big Man from "Rocko's Modern Life", and Vernon Dursley from the "Harry Potter" films.
Voices
Trivia
Ad blocker interference detected!
Wikia is a free-to-use site that makes money from advertising. We have a modified experience for viewers using ad blockers

Wikia is not accessible if you've made further modifications. Remove the custom ad blocker rule(s) and the page will load as expected.