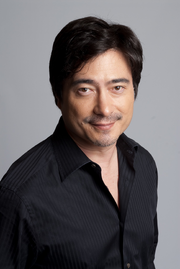 Jon Kabira (ジョン・カビラ, born November 1st, 1958 in Naha, Okinawa, Japan) is a Japanese freelance presenter, tarento, radio personality, and narrator who is affiliated with Sony Music Artists.
He is very popular in Japan having participated in various TV commercials and TV shows. Kabira is well known in the west due to his narration in the "Winning Eleven" video game series. He has narrated Thomas and Friends in Japan since Calling All Engines!. He began narrating in 2008.
Trivia
Both he and Aryeh Cherner voiced Doris from the "Shrek" films in their respective languages.

He, Kenji Utsumi, Takeshi Aono, Hisao Egawa, Tesshō Genda, Caspar Phillipson, Gerald Schaale, Radovan Vaculík, Aryeh Cherner, Kari Tamminen, Jan Kulczycki, Dulce Guerrero, Agnieszka Kunikowska, Ulises Maynardo Zavala, Hadar Shachaf Ma'ayan, Josh Klausner, Yoram Yosefsberg, Claes Ljungmark and Jim Cummings also voiced on the in "Shrek" films.
Gallery
External links
"Welcome to the Steamworks, my friend!"

This article is a stub. You can help by expanding it.