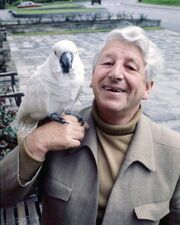 Ernest John "Johnny" Morris (born on 20 June 1916 in Newport, Monmouthshire, Wales, UK - died on 6 May 1999 in Wiltshire, England, UK) was a British actor and writer who was the first narrator of The Railway Stories. He narrated The Three Railway Engines through Percy the Small Engine, recorded by Delyse Records. He also built upon the Reverend W. Awdry's style of repetitions, improvising and enhancing the recordings with whistles, puffs, chugs and bursts of steam.
Johnny Morris also did books 1-8 for cassette, but he did books 9-11 only for Delyse Records, Willie Rushton later re-narrated books 9-11. He also narrated some films about Flying Scotsman in its early years of preservation, and was the vice president of the Bluebell Railway from the 1960's until 1987. Morris also appeared in "Animal Magic" and narrated "Tales of the Riverbank".
Johnny Morris died on May 6, 1999, aged 82.
Gallery