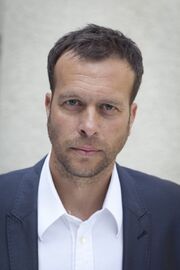 John Schwab (born in Pensacola, Florida, USA, on May 27th, 1964) is an American actor, TV producer and musician who resides in London. He joined the voice cast in The Great Race.
Voices
UK/US
Filmography
Films

Hotel! (2001)
Nothing to Declare (2001)
The Sin Eater (2003)
Boo, Zino & the Snurks (2004)
Mr 3000 (2004)
Foster (2005)
The Only Boy for Me (2006)
Soviet War Scare 1983 (2007)
The Special Relationship (2010)
Shooting Earth (2010)
Zero Dark Thirty (2012)
The Vatican (2013)
The Fifth Estate (2013)
Jack Ryan: Shadow Recruit (2014)
The Angola Deception (2014)
Beyond (2014)
A Quick Fortune (2014)
The Program (2015)
Thomas and Friends: The Great Race (2016)

Television

Teletubbies (1997)
My Dad's the Prime Minister (2003)
Broken News (2005)
Hope & Faith (2005)
Doctor Who (2005)
Monarch of the Glen (2005)
Ultimate Force (2006)
Hotel Babylon (2007)
Clone (2008)
Top Secret Weapons Revealed (2012)
Nixon's the One (2013)
Obsession: Dark Desires (2013)
CIA Declassified (2014)
The Assets (2014)
Undercover (2016)
Thomas & Friends (2016-present)

Games

Vietcong (2002)
Prisoner of War (2002)
Simple 2000 Series, Vol. 16: The Sniper 2 (2002)
Vietcong: Fist Alpha (2004)
Vietcong: Purple Haze (2004)
Killzone (2004)
Pursuit Force (2006)
Killzone: Liberation (2006)
Crysis (2007)
Age of Conan: Hyborian Adventures (2008)
Crysis Warhead (2008)
Mirror's Edge (2008)
Killzone 2 (2009)
The Witcher 2: Assassins of Kings (2011)
Kinect Disneyland Adventures (2011)
Crysis 3 (2013)
Company of Heroes 2 (2013)
Killzone: Shadow Fall (2013)
Alien: Isolation (2014)
The Witcher 3: Wild Hunt (2015)
Star Wars: Battlefront (2015)
Quantum Break (2016)
Trivia
Schwab, along with Nigel Plaskitt, John Hurt, Kerry Shale, Glenn Wrage, Michael Brandon, Tom Stourton, Martin Sherman, Olivia Colman, Miranda Raison, Simon Fisher-Becker, John Ogwen and Tracy-Ann Oberman have all had roles in "Doctor Who". Togo Igawa also had a role in one of it's spin-offs "Torchwood". Maggie Ollerenshaw and Jonathan Forbes also worked on an audio drama based on "Doctor Who". Diego Brizzi, Tesshō Genda and Dariusz Odija also did dubbings for the show.
Both he and Glenn Wrage voiced characters in "Back to Gaya".
He appeared in "Jack Ryan: Shadow Recruit" alongside Colm Feore.
He and David Menkin both had roles in "Zero Dark Thirty".
He, Joseph May, William Hope, David Menkin and Glenn Wrage all voiced characters in "Alien: Isolation".
He and Tim Whitnall both had roles in "Teletubbies".
Gallery
External Links