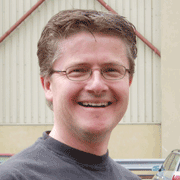 John Lee was a model maker and designer for the first season of Thomas the Tank Engine and Friends.
Before joining the team behind Thomas, John's first job was working for Cosgrove Hall on their project of "The Wind In The Willows" in the early 1980s.
During 2007, John went back to work on Thomas for the eleventh season and The Great Discovery. On his final years with Thomas, he designed the faces for Flora and Colin as well as sketched out the original face for Hank - with a moustache. After HiT requested a younger look for Hank, he redesigned Hank's face. He also designed Hiro who at the time was meant to have a different name and Victor and Kevin's faces. He also designed Hillside Mill.
External link
"Welcome to the Steamworks, my friend!"

This article is a stub. You can help by expanding it.
Ad blocker interference detected!
Wikia is a free-to-use site that makes money from advertising. We have a modified experience for viewers using ad blockers

Wikia is not accessible if you've made further modifications. Remove the custom ad blocker rule(s) and the page will load as expected.