"I remember watching Thomas the Tank Engine with my children when they were young and I'm delighted that it continues to appeal to each successive generation. I enjoy working vocally and have voiced many animated characters. Sailor John was something of a departure from what I usually do and a lot of fun to play."
―John Hurt referring to his role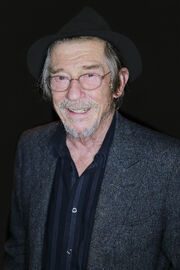 Sir John Vincent Hurt, CBE (born on January 22nd, 1940 in Chesterfield, Derbyshire, England, died January 25th, 2017) was an English actor, who was known for portraying the wand-maker Ollivander in the Harry Potter series and the War Doctor, a hitherto-unknown incarnation of the titular Doctor in the 50th anniversary special of the BBC television series, Doctor Who. Among other honours, he received two Academy Award nominations, a Golden Globe Award and four BAFTA Awards, with the fourth being a Lifetime Achievement recognition.
He was a special guest star in Sodor's Legend of the Lost Treasure.
Hurt passed away on January 25th, 2017, following a two year long fight with pancreatic cancer.
Voices
UK/US
Trivia
Gallery
Ad blocker interference detected!
Wikia is a free-to-use site that makes money from advertising. We have a modified experience for viewers using ad blockers

Wikia is not accessible if you've made further modifications. Remove the custom ad blocker rule(s) and the page will load as expected.