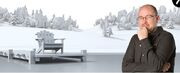 John Hickson is the Director of Technology at Jam Filled Toronto and a systems architect for Thomas & Friends. When the company was Arc Productions he wad the Head of Systems Engineering and a systems architect on the series.
He had been with Arc Productions for over 10 years until they shut down in August 2016.
Trivia
External Link
Ad blocker interference detected!
Wikia is a free-to-use site that makes money from advertising. We have a modified experience for viewers using ad blockers

Wikia is not accessible if you've made further modifications. Remove the custom ad blocker rule(s) and the page will load as expected.