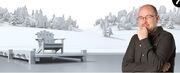 John Hickson is the Director of Technology at Jam Filled Toronto and a systems architect for Thomas & Friends. When the company existed as Arc Productions he was the Head of Systems Engineering and a systems architect on the series.
He had been with Arc Productions for over 10 years until they shut down in August 2016.
Trivia
He, Kallan Kagan, Jesse Lickman, Alan Kennedy, Marianne Culbert, Anna Wagner-Lopez, Rob Pringle, Adam Black, Jazmin Playtis, Tigh Walker, Jason Reeves, Travis Gagne and Ryan Quaglia have all worked on the series "Tarzan and Jane". There have also been several other voice actors that have worked on other Tarzan related projects:
External Link
"Welcome to the Steamworks, my friend!"

This article is a stub. You can help by expanding it.
Ad blocker interference detected!
Wikia is a free-to-use site that makes money from advertising. We have a modified experience for viewers using ad blockers

Wikia is not accessible if you've made further modifications. Remove the custom ad blocker rule(s) and the page will load as expected.