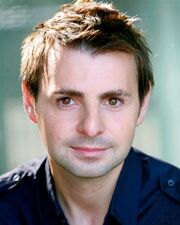 John Hasler (born in Barking, London, England, UK on 24 April 1974) is an English actor and voice-over artist who joined the cast of Thomas & Friends in 2015. He took over the roles of Thomas and Rheneas from Ben Small.
Hasler is best known for his appearance as T-Shirt in the children's TV series T-Bag. Other credits include "Gnomeo and Juliet" (animated by Arc Productions), "Toot the Tiny Tugboat", "Go Jetters", "The Legends of Treasure Island", and two of HiT Entertainment's other shows; "Mike the Knight" and "Fireman Sam".
Voices
UK
UK/US
Songs
Filmography
Films

Breakout (1984)
Brazil (1985)
T-Bag's Christmas Carol (1989)
T-Bag's Christmas Ding Dong (1990)
T-Bag's Christmas Turkey (1991)
10 Arenas of Marwood (2011)
Storage 24 (2012)
Brave (2012)
Fireman Sam: Heroes of the Storm (2014)
Fireman Sam: Alient Alert (2017)

Television

Wonders in Letterland (1985)
T-Bag Strikes Again (1986)
T-Bag Bounces Back (1987)
Turn on to T-Bag (1988)
T-Bag and the Revenge of the T-Set (1989)
T-Bag and the Pearls of Wisdom (1990)
T-Bag and the Rings of Olympus (1991)
Doctor at the Top (1991)
T-Bag and the Sunstones of Montezuma (1992)
Take Off with T-Bag (1992)
Against All Odds (1994)
Harry's Mad (1994)
The Legends of Treasure Island (1995)
Casualty (2000)
Renford Rejects (2000)
Fireman Sam (2012-present)
Teenage Fairytale Dropouts (2013-2014)
Toot the Tiny Tugboat (2014)
Thomas & Friends (2015-present)
Go Jetters (2015-present)
Trivia
Gallery
External Links
Ad blocker interference detected!
Wikia is a free-to-use site that makes money from advertising. We have a modified experience for viewers using ad blockers

Wikia is not accessible if you've made further modifications. Remove the custom ad blocker rule(s) and the page will load as expected.