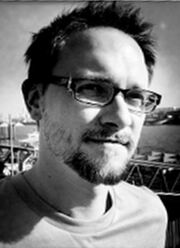 Johannes Semm is a German voice actor who provides voices for the German dub of Thomas & Friends.
He is most famous for voicing Retchy Lintpockets from "Fanboy & Chum Chum", Shin from "Naruto: Shippuden", Milo and Rudy from "Bob's Burgers", and Simon Sumiya from "Cross Fight B-Daman". He has also provided voices for various video games, including "Assassins Creed: Rogue", "Wolfenstein: The New Order", "Star Wars: The Old Republic", and many others.
Voices
External links
Ad blocker interference detected!
Wikia is a free-to-use site that makes money from advertising. We have a modified experience for viewers using ad blockers

Wikia is not accessible if you've made further modifications. Remove the custom ad blocker rule(s) and the page will load as expected.