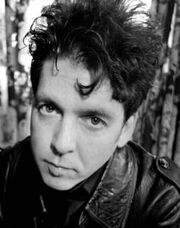 Joe Henry (born Joseph Lee Henry on December 2nd, 1960 in Charlotte, North Carolina, USA) is an American singer, composer and song writer who did songs for Thomas and the Magic Railroad. He is best known for doing music albums, such as "Tiny Voices", "Reverie", "Blood from Stars", and "Trampoline". He also did original scores for films like "Jesus' Son", "Motherhood", and "Knocked Up".
He is currently married to Madonna's sister Melanie Ciccone since 1987 and they have two children.
Songs
Trivia
According to the SiF interview, he was approached to sing "Some Things Never Leave You" at the last minute and did it at his guesthouse studio in South Pasadena.
External links
Ad blocker interference detected!
Wikia is a free-to-use site that makes money from advertising. We have a modified experience for viewers using ad blockers

Wikia is not accessible if you've made further modifications. Remove the custom ad blocker rule(s) and the page will load as expected.