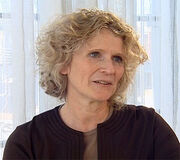 Jocelyn Stevenson is an English writer, producer, director and development executive.
She was the executive in charge of production from 2001 to 2006 at HiT Entertainment. She was the executive producer for Thomas & Friends for HiT from the seventh season to the tenth season. She left HiT to work at Spider Eye Animation after the tenth season and was replaced by Christopher Skala.
She has also written for "Barney and Friends", "Bob the Builder", "Sesame Street", "Charlie Chalk", "FunnyBones" and "The Magic School Bus" and was also one of the creators of "Fraggle Rock".
She received a BAFTA Special Award at the British Academy Children's Awards of 2015. On Saturday, November 21st of that year, she did an interview for the BBC Breakfast News.
"Welcome to the Steamworks, my friend!"

This article is a stub. You can help by expanding it.