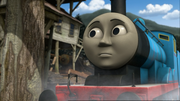 Jobi Wood is a very rare, super strong, special, deep red wood, which is found on both Hiro's homeland and on Misty Island.
Trivia
The Sodor Search and Rescue Centre is made from Jobi wood.
Misty Island and Japan are the only places in the world where Jobi trees grow.
Jobi trees appear to be a type of conifer.
Unlike most types of wood, Jobi wood sinks in deep water.
Jobi is the Japanese word for birthday, so the name Jobi Wood could have been a reference to the 65th anniversary.
Gallery
Ad blocker interference detected!
Wikia is a free-to-use site that makes money from advertising. We have a modified experience for viewers using ad blockers

Wikia is not accessible if you've made further modifications. Remove the custom ad blocker rule(s) and the page will load as expected.