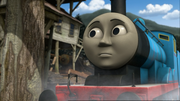 Jobi Wood is a very rare, super strong, special, deep red wood, which is found on both Hiro's homeland and on Misty Island.
Trivia
The Sodor Search and Rescue Centre is made from Jobi wood.
Misty Island and Japan are the only places in the world where Jobi trees grow.
Jobi trees appear to be a type of conifer.
Unlike most types of wood, Jobi wood sinks in deep water.
Gallery