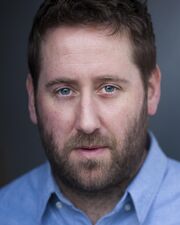 Jim Howick (born on May 14th, 1979 in Chichester, Sussex, England, UK) is a British actor and voice artist. He joined the cast for Journey Beyond Sodor.
Other credits include "Horrible Histories", "Broadchurch" and "Paddington 2".
Voices
UK/US
Songs
Filmography
Films

Captain V (2002)
Tokyo Jim (2006)
Biffovision (2007)
Strangers on a Plain (2011)
A Christmas Panic (2014)
What's Wrong? (2014)
Bill (2015)

Television

The Armstrong and Miller Show (1997)
Hyperdrive (2007)
Rob Newman's History of the World... Backwards (2007)
Comedy Showcase (2007)
The Armstrong and Miller Show (2007-2010)
Peep Show (2007-2012)
Mutual Friends (2008)
No Heroics (2008-2009)
The Kevin Bishop Show (2008-2009)
Reggie Perrin (2009-2010)
Horrible Histories (2009-2015)
Hounded (2010)
The Increasingly Poor Decisions of Todd Margaret (2010)
Horrible Histories with Stephen Fry (2011)
BBC Proms (2011)
It's Kevin (2013)
The Wrong Mans (2013-2014)
Yonderland (2013-2016)
Lives of the Infamous Comedy Blaps (2014)
Babylon (2014)
House of Fools (2015)
Inside No. 9 (2015)
Undercover (2015)
Scream Street (2015-2016)
Stag (2016)
The Aliens (2016)
Halloween Comedy Shorts (2016)
Marley's Ghosts (2016)
Broadchurch (2017)
Loaded (2017)
Thomas & Friends (2017-present)
Trivia
External Link
Ad blocker interference detected!
Wikia is a free-to-use site that makes money from advertising. We have a modified experience for viewers using ad blockers

Wikia is not accessible if you've made further modifications. Remove the custom ad blocker rule(s) and the page will load as expected.