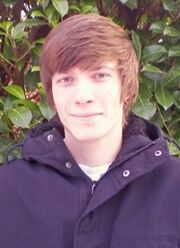 Jesse Grimm (born July 11th, 1988) is a German voice actor who provides voices for the German dub of Thomas & Friends.
He has appeared in various video games including "Hitman", "Harry Potter", "Fifa 10", "Fifa 13", and more. He is also known for voicing Harry McKenzie from "School Rumble", Justin Law from "Soul Eater", Chōjūrō from "Naruto: Shippuden", and Gene Belcher from "Bob's Burgers".
Voices
Trivia
He, Henning Nöhren, Lennardt Krüger, Christian Stark, Tobias Schmidt, Christian Rudolf, Fabian Harloff, Robert Kotulla, Konstantin Graudus, Merete Brettschneider, Tim Kreuer, Oliver Böttcher, Robert Missler, Patrick Bach, Jürgen Holdorf, Jan-David Rönfeldt, Joshy Peters, Sascha Draeger, Michael Bideller, Joey Cordevin, Christos Topoulos, Volker Hanisch, Nils Rieke, Peter Weis, Rainer Schmitt, Jens Wendland, Martin May, Bernd Stephan, Robin Brosch, Eberhard Haar, Angela Quast, Kai-Henrik Möller, Achim Schülke, Sonja Stein, Marion von Stengel, Henry König, Lutz Herkenrath, Dagmar Dreke, Knud Riepen, Gerhart Hinze, Erik Schäffler, Jennifer Böttcher, Joachim Kretzer, Manuela Bäcker, Daniel Welbat, Klaus Dittmann, Martin Lohmann and Achim Buch have worked on "Naruto".
He, Konstantin Graudus, Sascha Draeger, Tobias Diakow, Joshy Peters, Johannes Semm, Simona Pahl, Robin Brosch, Patrick Bach, Marion von Stengel, Robert Missler, Volker Hanisch, Oliver Böttcher, Holger Mahlich, Achim Schülke, Peter Weis, Tobias Schmidt, Tim Kreuer, Nadine Schreier, Kristina von Weltzien, Fabian Harloff, Daniel Welbat, Monty Arnold and Robert Kotulla provided voices in "Bob's Burgers".
Grimm, Harloff, von Stengel, Kotulla, Schmitt, May, Schreier, Bäcker, Peters, Bideller, Dreager, Schmidt, Holdorf and Hanisch voiced for "Soul Eater".
Grimm, Diakow, Wendland, Pahl, Haar, von Weltzien, Katja Brügger, Riepen, Tetje Mierendorf and Kotulla appeared in "Bobby & Bill".
He, Geneviève Déry, Robert Wilfort, Rolando de Castro, Claes Ljungmark, Leyla Rangel, Ruth Toscano, Nathan Clarke, Simon Fisher-Becker, César Izaguirre, César Árias, Katsuji Mori, Yigal Mizrachi, Hideyuki Umezu, José Luis Orozco, Aryeh Cherner, Zuzanna Galia, Ángel Amorós, Tokuyoshi Kawashima, Octavio Rojas, Scott Maurstad, John Hurt, Humberto Vélez, Jorge Santos, Irwin Daayán, Masashi Ebara, Blas García, Dov Reiser, Albert Cohen, Hadar Shachaf Ma'ayan, Zvika Schwartzberg, Jamie Campbell Bower, Thomas Fritsch, Norma Iturbe and Rob Rackstraw have all worked in the "Harry Potter" films. Angela Kyriacou and Eddie Redmayne also had roles in it's prequel "Fantastic Beasts and Where To Find Them".