"Judy!"
"Jerome?"
"Emergency!"
— Jerome and Judy, whenever they're awoken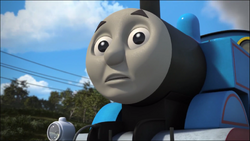 Jerome and Judy
Class: Cowans Sheldon 30 ton breakdown cranes
Built: 1906
Jerome and Judy are breakdown cranes.
Bio
Thomas first encountered Jerome and Judy in a siding at Knapford Station Yard, where they thought there was an emergency. Thomas later collected them when James was derailed with some Troublesome Trucks. It is unknown what happened to them after this.
Basis
Jerome and Judy are based on a Cowans Sheldon 30 ton breakdown crane.
Persona
Jerome and Judy are both heavy sleepers, usually only awaking if there is an emergency (or if they think there is). The two also seem to be very talkative. They are always ready for an emergency and respond with zeal and vigour.
Livery
Jerome and Judy are painted dark green-grey with yellow hazard stripes. They have brass nameplates on the sides of their cabs.
Appearance
Specials:
Voice Actors
Jerome:
Judy:
Trivia
Judy is the first female crane in the series.
Jerome & Judy are the second and third sentient rail cranes introduced in the series.
Gallery