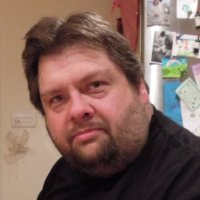 Jeremy King (born in Epsom, Surrey, England, December 18th, 1967) was a model maker on both Thomas the Tank Engine and Friends and TUGS. He started his contributions to Thomas as a model maker on the second season at the age of 17. He made a cottage which was seen next to the stationmaster's house in Thomas Comes to Breakfast and also helped Paul Knight construct the model of Harold.
On TUGS, Jeremy built Zorran, a buoy and sculpted the faces for Billy Shoepack, Burke and Blaire.
He also worked on the third, sixth and tenth seasons. One of his last contributions was a little steam crane used at the Wharf.
External Link
Ad blocker interference detected!
Wikia is a free-to-use site that makes money from advertising. We have a modified experience for viewers using ad blockers

Wikia is not accessible if you've made further modifications. Remove the custom ad blocker rule(s) and the page will load as expected.