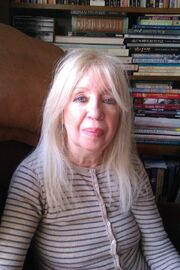 Jenny McDade (died on 3 August 2011) was an episode writer for Thomas & Friends. She previously wrote for British girls' comics in the 1970s, including "Star Struck Sister" and "Bella at the Bar" for Tammy. She went on to become a TV screenwriter, writing such shows as "SuperGran", "Mr Majeika", "The Animals of Farthing Wood", "Animal Ark" and "C.A.T.S. Eyes". Before her death she worked on a graphic novel called "Party Girls".
Episodes
"Welcome to the Steamworks, my friend!"

This article is a stub. You can help by expanding it.