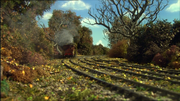 Jem Cole is Trevor's driver and a friend of the Vicar of Wellsworth.
Bio
Jem, along with Farmer Trotter and others, was a part of the rescue team which found Duke. He seems to be very knowledgeable about road steam traction, as he has also driven George. Jem Cole is a skilled mechanic, as he restored Elizabeth. As of the eleventh season, he appears to be working as a farmer and has grown a grey beard. In the fifteenth season, he was seen fishing with a little boy in the Whistling Woods; this could possibly be his son or grandson. In Day of the Diesels, he helped to extinguish a fire at a barn. In the sixteenth season, he helped to put out another fire, this one at the Fat Controller's shed.
He has previously worked as a railway ganger.
Appearances
Voice Actors
Trivia
From the ninth season to the eleventh season, Jem Cole used Old Bailey's face mask. His previous face was reused for Jeremiah Jobling in seasons 4-6.
Merchandise
Gallery