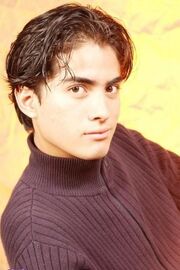 Javier Olguín (born on 24 February 1981) is a Mexican voice actor who voiced characters in the Mexican version of Thomas & Friends.
He is the official voiceover to Jason Earles, Doc Shaw, and Andrew Garfield. He also voices various characters from "Pokémon", Flash Sentry from the "My Little Pony" series, Donatello from the 2012 "Teenage Mutant Ninja Turtles", Heath Burns from "Monster High", and "Babel II".
Voices
Trivia
External link
Ad blocker interference detected!
Wikia is a free-to-use site that makes money from advertising. We have a modified experience for viewers using ad blockers

Wikia is not accessible if you've made further modifications. Remove the custom ad blocker rule(s) and the page will load as expected.