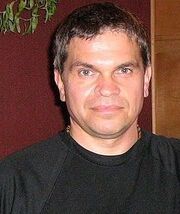 Jarosław Boberek (born June 14th, 1963) is a Polish actor who voices characters in the Polish narration of Thomas and Friends.
He is most famous for voicing Ed from "Ed, Edd n Eddy", King Julien from the "Madagascar" series, The Red Guy from "Cow & Chicken", Koh the Face Stealer from "Avatar: The Last Airbender", King Neptune and Squilliam Fancyson from "SpongeBob Sqaurepants", Nigel Thornberry from "The Wild Thornberrys", Vector from "Despicable Me", Muttley from the "Hanna-Barbera" series, Esteban Banderas from "Littlest Pet Shop", Toad from "X-Men: Evolution", Ratchet from "Transformers: Prime" and Lumpy Space Princess from "Adventure Time".
Voices
Trivia
Ad blocker interference detected!
Wikia is a free-to-use site that makes money from advertising. We have a modified experience for viewers using ad blockers

Wikia is not accessible if you've made further modifications. Remove the custom ad blocker rule(s) and the page will load as expected.