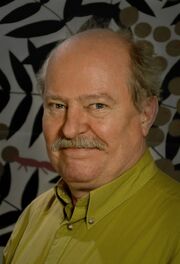 Jarmo Koski (born on July 2nd, 1951) is a Finnish actor who provides voices for the Finnish dub of Thomas & Friends.
He is best known for appearing in various Finnish TV comedies, but he is most famously known as the voice over of the title character from "Winnie-the-Pooh". Other Finnish dubbing credits include: Moe Szyslak in "The Simpsons Movie", Garfield in "The Garfield Show", Tinky Winky in "Teletubbies", Fu Dog in "American Dragon: Jake Long", Salvatore Valestra in "Batman: Mask of the Phantasm", Gusto Gummi in "Disney's Adventures of the Gummi Bears", Slinky in "Toy Story 3", Oil Rig in "Elias and The Royal Yacht", "Happy Feet 2", and many more.
Voices
Trivia
"Welcome to the Steamworks, my friend!"

This article is a stub. You can help by expanding it.
Ad blocker interference detected!
Wikia is a free-to-use site that makes money from advertising. We have a modified experience for viewers using ad blockers

Wikia is not accessible if you've made further modifications. Remove the custom ad blocker rule(s) and the page will load as expected.