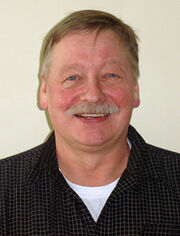 Jan Kulczycki (born on May 25th, 1947) is a Polish actor who voices characters in the Polish narration of Thomas & Friends.
He is best known for voicing Dr. Sherman from "Finding Nemo", Grim from "The Grim Adventures of Billy and Mandy", Mr. Potato Head from the "Toy Story" series, Megatron from "Transformers: Cybertron" and "Energon", Mr. Tweedy from "Chicken Run", Dobbs from "Kim Possible", Gym Leader Chuck from "Pokémon", Mr. Dickenson from "Beyblade: V-Force", Toa Onua from "Bionicle: Mask of Light", and the second Polish voice to King Harold from the "Shrek" films following Janusz Bukowski's death.
Voices
Trivia
Ad blocker interference detected!
Wikia is a free-to-use site that makes money from advertising. We have a modified experience for viewers using ad blockers

Wikia is not accessible if you've made further modifications. Remove the custom ad blocker rule(s) and the page will load as expected.