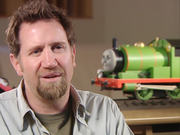 Jamie Thomason was an American voice director for Thomas and Friends.
He is best known as the head of casting for various Disney productions between 1991-2006. He has also worked on various other shows, including the final season of Hanna Barbera's television adaptation of "The Smurfs", "A Pup Named Scooby Doo", "The Spectacular Spider-Man", and "Bill and Ted's Excellent Adventures", which included George Carlin.
He was the voice director when Pierce Brosnan narrated The Great Discovery and the original cut of the twelfth season, but he was replaced by Pete Atkin when Michael Angelis and Michael Brandon resumed their roles narrating for the UK and US respectively.
He also appeared in Behind the Scenes with Pierce Brosnan.
"Welcome to the Steamworks, my friend!"

This article is a stub. You can help by expanding it.
Ad blocker interference detected!
Wikia is a free-to-use site that makes money from advertising. We have a modified experience for viewers using ad blockers

Wikia is not accessible if you've made further modifications. Remove the custom ad blocker rule(s) and the page will load as expected.