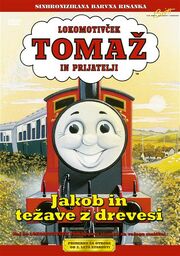 James and the Problems with Trees is a Slovenian DVD containing episodes from the fourth and fifth seasons narrated by Vladimir Jurc.
Description
Daisy makes fun of Toby, his plow and his fear of bulls. Later she was sorry, when confronted with a huge bull, that does not flee. Oliver is a bit afraid of the wagon, since he had accident at the turntable. Wagons are well aware of this and make fun of him. Gordon is enormous strutting, but all the pride of mine at the opening of the new station.
Episodes
"Welcome to the Steamworks, my friend!"

This article is a stub. You can help by expanding it.
Ad blocker interference detected!
Wikia is a free-to-use site that makes money from advertising. We have a modified experience for viewers using ad blockers

Wikia is not accessible if you've made further modifications. Remove the custom ad blocker rule(s) and the page will load as expected.