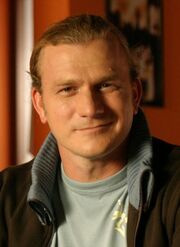 Jacek Król (born April 7th, 1973 in Bytom, Silesian) is a Polish voice actor who voices characters in the Polish narration of Thomas & Friends.
He is best known for voicing O'Hare from "The Lorax", Roadblock from "G.I. Joe: Renegades", General Hologram from "Wreck-It Ralph", Vaatu from "The Legend of Korra", Fido the Diamond Dog and Chief Thunderhooves from "My Little Pony: Friendship is Magic", and Captain Kalus from "Hot Wheels Battle Force 5".
Voices
Trivia
Ad blocker interference detected!
Wikia is a free-to-use site that makes money from advertising. We have a modified experience for viewers using ad blockers

Wikia is not accessible if you've made further modifications. Remove the custom ad blocker rule(s) and the page will load as expected.