Ad blocker interference detected!
Wikia is a free-to-use site that makes money from advertising. We have a modified experience for viewers using ad blockers

Wikia is not accessible if you've made further modifications. Remove the custom ad blocker rule(s) and the page will load as expected.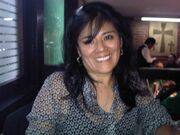 Isabel Romo (born March 3rd, 1966) is a Mexican voice actress who provides voices in the Latin American narration of Thomas & Friends.
She is known for voicing Motoko Aoyama from "Love Hina", Miss Mari from "Megaman NT Warrior", Ayame from "Bleach", Suri Polomare from "My Little Pony: Friendship is Magic", Setsuno from "Toriko", Sayuri from "Ranma 1/2", and Connie from "Hey, Arnold!".
Voices