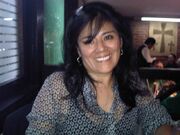 Isabel Romo (born March 3rd, 1966) is a Mexican voice actress who provides voices in the Latin American narration of Thomas & Friends.
She is known for voicing Motoko Aoyama from "Love Hina", Miss Mari from "Megaman NT Warrior", Ayame from "Bleach", Suri Polomare from "My Little Pony: Friendship is Magic", Setsuno from "Toriko", Sayuri from "Ranma 1/2", and Connie from "Hey, Arnold!".
Voices
Trivia
She, Alan Prieto, Hisayo Mochizuki, Manuel Campuzano, Roberto Mendiola, Salvador Reyes, Noriko Shitaya, Shinichirō Miki, Hideo Ishikawa, Edson Matus, Liliana Barba, Noé Velázquez, Víctor Ugarte, Irina Índigo, Masaharu Satō, Kenta Miyake, Junko Noda, Houko Kuwashima, Shōto Kashii, Luis Alfonso Mendoza, Tetsu Inada, Nobutoshi Canna, Eduardo Garza, José Luis Orozco, Humberto Vélez, Gerardo Reyero and Kiyoyuki Yanada have all worked on "Bleach".
"Welcome to the Steamworks, my friend!"

This article is a stub. You can help by expanding it.
Ad blocker interference detected!
Wikia is a free-to-use site that makes money from advertising. We have a modified experience for viewers using ad blockers

Wikia is not accessible if you've made further modifications. Remove the custom ad blocker rule(s) and the page will load as expected.