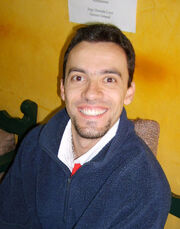 Igor Cruz is a Mexican voice actor who provides voices for the Latin American narration of Thomas & Friends.
He is known for voicing Chip from "Camp Lazlo", Wink from "Codename: Kids Next Door", Veemon from "Digimon", Vinnie Terrio from "Littlest Pet Shop", Wyvern Rhadamanthys from "Saint Seiya", Brainstorm from the "Ben 10" series, Yoshiyuki Terada from "Cardcaptor Sakura", Garble from "My Little Pony: Friendship is Magic", Toxzon from the 2013 "Max Steel" series, Tyranno Hassleberry from "Yu-Gi-Oh!", and Err from "Aqua Teen Hunger Force".
Voices
Trivia
External Links
"Welcome to the Steamworks, my friend!"

This article is a stub. You can help by expanding it.