"My favourite engine has to be Paxton the Diesel. He may be a little rough around the edges but he's a kind and very funny diesel. He's a bit of a clown...just like me!"
―Ian McCue on Paxton, 2015 Licensing Source Book Interview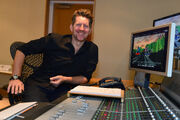 Ian McCue is an English producer, writer, television executive and voice actor.
He is the Senior Producer at HiT Entertainment/Mattel Creations for all of its brands, including Thomas & Friends. During the fifteenth season, he served as a line producer alongside Denise Green. He worked alongside Halim Jabbour until Jabbour left the series. He also wrote the Thomas' Comedy Showtime and Meet the Contenders shorts for the official YouTube channel, as well as Thomas & Friends in 4-D: Bubbling Boilers. He served as producer for the sixteenth through twentieth seasons and all eight specials in that time. He now serves as "creative executive".
He launched and ran Festivus, an animation networking and social event for years. He has overseen the production of some of the UK's best loved children's TV series. In 2011, he won the Beyond the Call of Duty Award for his time as a children's producer.
Producer
Seasons
Specials
Writer
Promotional Videos
Songs performed
Voices
UK/US
Trivia
He, Albert Cohen, Marion Edwards, Christopher Keenan, Erica Welch, Andrew Defty, Karen Davies, Thomas Holborow, Steven Kynman, Christopher Skala, Michelle Rodda, Jan Page, Lee Pressman, Helen Farrall, John Hasler, Ross Hastings, Laura Beaumont, Paul Larson, Miranda Larson, Karen Davidsen, Karen Barnes, Lenora Hume, Sam Barlow, Andrew Brenner, Dave Ingham, Simon Nicholson, Jocelyn Stevenson, Sharon Quick, Pete Atkin, Fiona Hardwick, Lorna Withrington, Finn Poncin, Lizzie Ennever, Prokhor Chekhovskoy, Oliver Böttcher, Oliver Davis, Łukasz Talik, Samuel Harjanne, Nir Ron, Stan Limburg, Mia Kadosh, Petri Hanttu, Simona Pahl, Gadi Levy, Robert Hartshorne, Arlyn Bantog and Tim Bain have all worked on "Fireman Sam".
Gallery
External Link