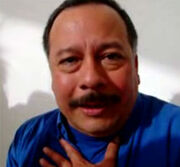 Humberto Vélez (born March 30th, 1955) is a Mexican voice actor who provides voices in the Latin American narration of Thomas & Friends.
He is best known for voicing Homer Simpson in "The Simpsons", Peter Griffin in "Family Guy", Hubert J. Farnsworth and Kiff Crocker from "Futurama", Tarantulas from "Transformers: Beast Wars", Baki from "Naruto", Roz from "Monsters, Inc.", John Silver from "Treasure Planet", P. T. Flea from "A Bug's Life", Kreacher from the "Harry Potter" films, and Robert Callaghan from "Big Hero 6". He is also the current voice to the title character of "Winnie the Pooh".
Voices
Trivia
Ad blocker interference detected!
Wikia is a free-to-use site that makes money from advertising. We have a modified experience for viewers using ad blockers

Wikia is not accessible if you've made further modifications. Remove the custom ad blocker rule(s) and the page will load as expected.