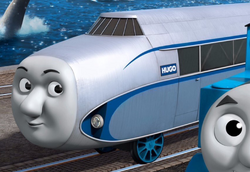 Hugo
Designer: Franz Kruckenberg
Builder: Hannover-Leinhausen
Built: 1929
Top Speed: 140 mph
Hugo is a propeller engine who will be introduced in the twentieth season.
Bio
​Hugo is unique for being fitted with a propeller. He is a very fast engine, whose spinning propeller makes him very popular with passengers.
Basis
Hugo is based on the Schienenzeppelin, a German propellor driven locomotive
Livery
Hugo is painted silver with a two-tone blue strip beneath his windows.
Appearances
Voice Actors
Trivia
Hugo has some modifications compared to his basis:

His height has been reduced considerably.
Much of his front nose has been flattened to accommodate a face.
He appears to have two additional windows on his cab compared to his basis
Merchandise
Gallery