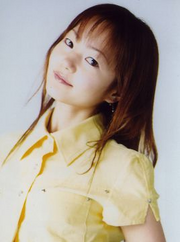 Hisayo Mochizuki (望月久代, born in Tokyo, Japan, April 27th, 1978) is a Japanese voice actress who provides voices for the Japanese version of Thomas & Friends.
She is best known for voicing Kusajishi Yachiru from "Bleach" and Pudding Fong from "Tokyo Mew Mew".
Voices
Trivia
She worked alongside Hikaru Midorikawa, Nobutoshi Canna, and Junko Noda on "Tokyo Mew Mew".
She, Alan Prieto, Manuel Campuzano, Roberto Mendiola, Salvador Reyes, Noriko Shitaya, Shinichirō Miki, Hideo Ishikawa, Edson Matus, Liliana Barba, Víctor Ugarte, Irina Índigo, Isabel Romo, Masaharu Satō, Kenta Miyake, Junko Noda, Houko Kuwashima, Shōto Kashii, Luis Alfonso Mendoza, Tetsu Inada, Nobutoshi Canna, Eduardo Garza, José Luis Orozco, Humberto Vélez, Gerardo Reyero and Kiyoyuki Yanada have all worked on "Bleach".
"Welcome to the Steamworks, my friend!"

This article is a stub. You can help by expanding it.