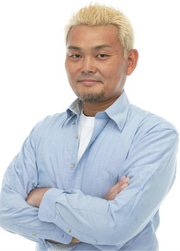 Hisao Egawa (江川央生, born on 13 September 1962) is a Japanese voice actor from Tokyo who provided voices for the Japanese version of Thomas & Friends between the fourth and eighth seasons.
He is most famous for voicing Don George from "Pokémon", Overhaul from "Transformers: Cybertron", Sideswipe from the "Transformers" film series, Killer Bee from "Naruto", Andrew Cherenkov from "Xenosaga", Cao Ren from "Dynasty Warriors", and Falco Lombardi from "Star Fox".
Voices
Songs
Trivia
Ad blocker interference detected!
Wikia is a free-to-use site that makes money from advertising. We have a modified experience for viewers using ad blockers

Wikia is not accessible if you've made further modifications. Remove the custom ad blocker rule(s) and the page will load as expected.